W dniach 16-19 września 2018 w Poroninie miała miejsce 3 Międzynarodowa Konferencja dla Młodych Naukowców: Soil in the environment " w której uczestniczyło pięcioro pracowników naszego Zakładu.
Organizatorem konferencji byli doktoranci Uniwersytetu Jagiellońskiego, uniwersytetu Przyrodniczego w Poznaniu, Uniwersytetu Rolniczego w Krakowie oraz Uniwersytetu Mikołaja Kopernika w Toruniu. W wydarzeniu uczestniczyło 52 osoby. W tym uczestnicy z Węgier, Litwy, Niemiec oraz Rosji.
Pierwszego dnia zostały wygłoszone referaty plenarne: (1) Evidence of aeolian silt influence on soils in the Opawskie Mountains (SW, Poland); (2) Threshold values of podzolization process occurrence in soils developed from flysch formations in the Outer Carpathians – preliminary results; (3) Influence of natural forest succession on morphological and chemical properties of the Pieniny National Park soils; (4) 13C-NMR spectroscopy of humic substances, isolated from agricultural soils of Puchuncavi (El Melon and Puchuncavi areas), Central Chile; (5) Origin and properties of soil lamellae in sandy and silty deposits in southern Poland.
Zapraszamy do Galerii zdjęć z wydarzenia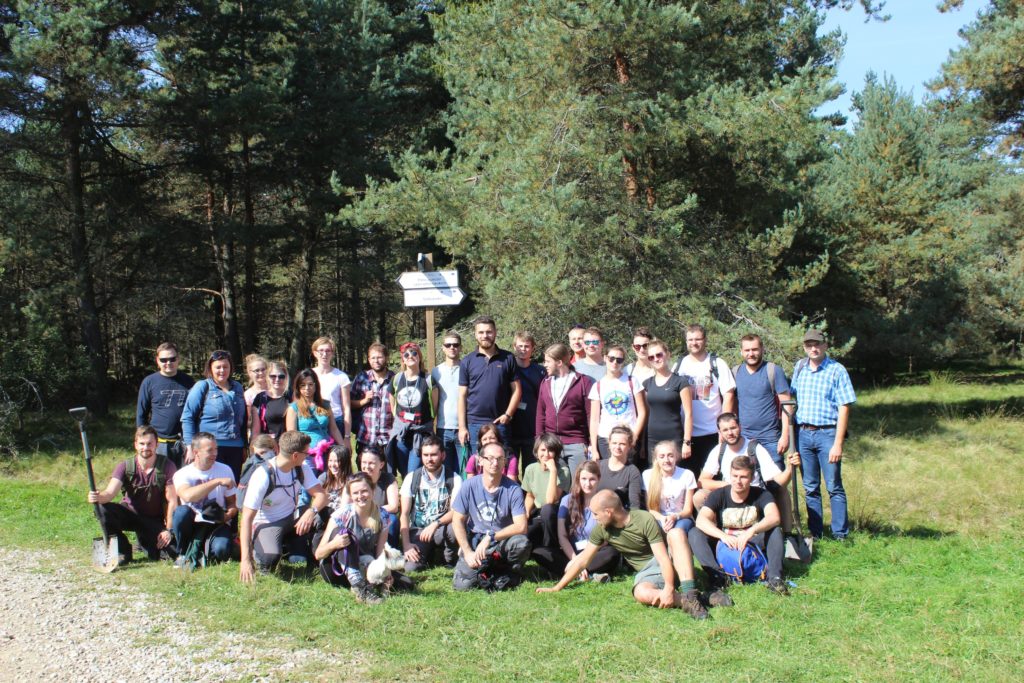 W czasie sesji posterowej pracownicy naszego Zakładu zaprezentowali następujące prace:
Gałązka A., Gawryjołek K, Furtak K., Gajda A., Jończyk K.: Assessment of the metabolic diversity of microorganisms and glomalin contents as a soil environmental quality indicator in ecological and conventional crop production systems.
Gałązka A., Furtak K., Jończyk K.:Evaluation of the microbial activity in the rhizosphere of different varieties of winter wheat cultivated in the ecological system.
Gawryjołek K., Gałazka A., Gaweł E.:Infuence of permanent grassland renovation methods on soil biological activity in a conventional plant production system.
Gawryjołek K., Gałązka A., Grządziel J., Ciepiel J.: The differentiation of soil biological activity exemplified by the soils representative for Poland.
Grządziel J., Gałazka A.: Metataxonomic characterization of the long-term petroleum contaminated soil.
Siebielec S., Siebielec G.: Identification of nitrogen-fixing bacteria from the smelter wasteland using 16S rDNA sequencing method and genotyping of strains using PCR-MP.
Siebielec S., Siebielec G., Grela M., Grzęda M.: Diversity and activity of soil microorganisms in drought conditions.
Woźniak M., Gałązka A., Grządziel J., Frąc M.: Metagenomics analysis of rhizosphere microbiome of fast-growing Paulownia spp.
Woźniak M., Gałązka A.: BOX-PCR- and ERIC-PCR-based genotyping of Delftia sp. Isolates from crops plants.
Konferencja obejmowała również sesję terenową nt. "Wpływ klęsk żywiołowych na gleby rejonów górskich" do Torfowiska Baligówka oraz Doliny Lejowej, gdzie uczestnicy zapoznali się z profilami glebowymi wybranych terenów oraz aparaturą wykorzystywana do pomiaru parametrów fizyko-chemicznych gleb w terenie.

Organizatorzy zaprosili uczestników na kolejną edycję konferencji, która odbędzie się w 2020 roku.

Więcej informacji można znaleźć na stronie Polskiego Towarzystwa Gleboznawczego.
3rd International Conference of Young Scientists "Soil in the environment", 16-19.09.2018 Kraków-Poronin